STANDING STONE KENNELS DAMS
At Standing Stone Kennels we strive for excellence in all that we do, especially our breeding program. That's why we train, test and title all of the dogs in our breeding program. Before our dogs are bred they will have been PennHip or OFA tested as well as titled in NAVHDA or AKC.
STANDING STONES QUICK DRAW - "ALLIE"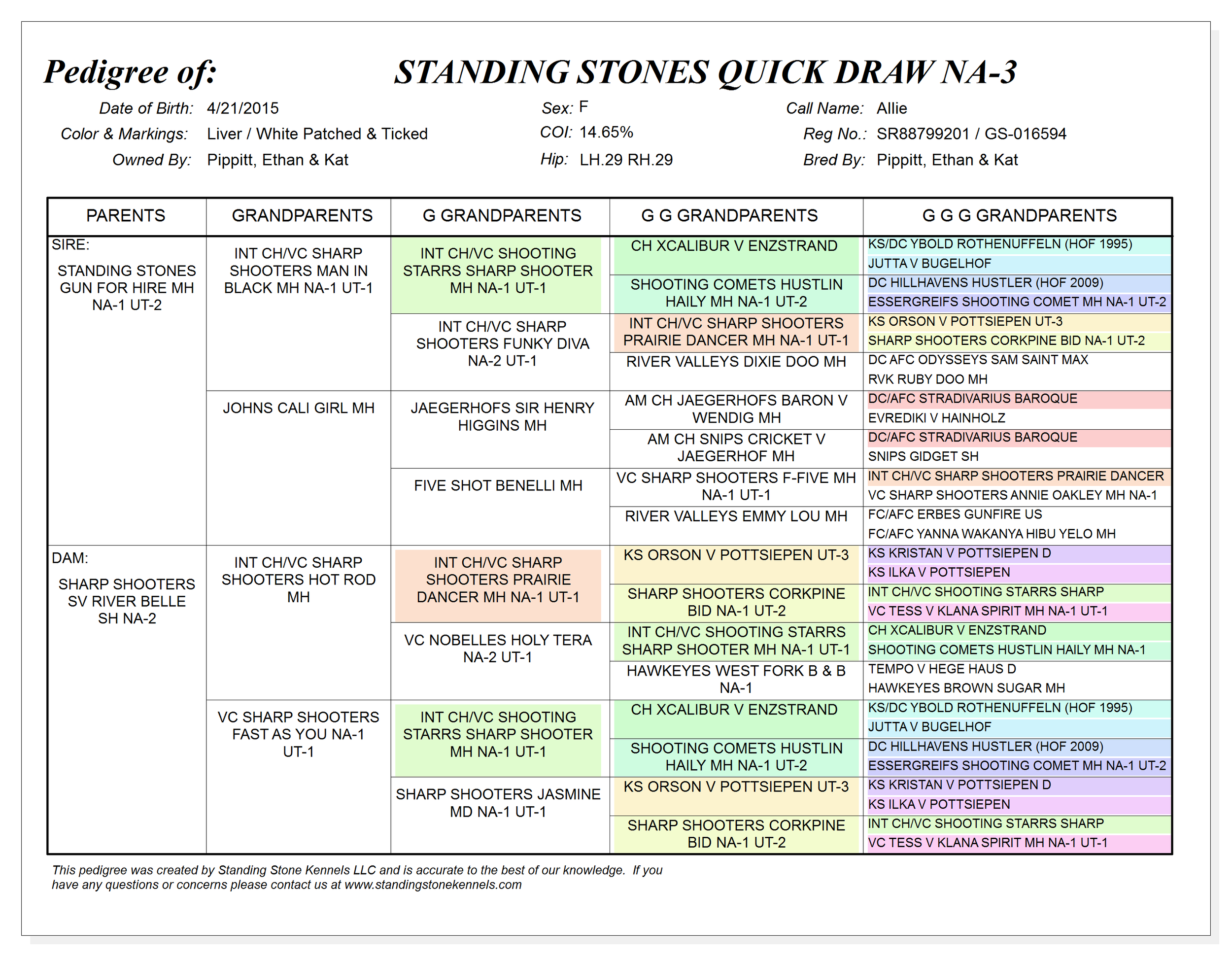 Born - April 21, 2015

Height - 22.5 in.

Weight - 45 lbs.

Coat - Dense Medium Harsh

PennHIPP - LH .29/RH .29
NAVHDA Test Results

NA Prize III, 104pts.

AKC Test Results
Get To Know Allie
This sweet girl definitely combines the best of both of her parents, Snap and Shooter.
She has Shooter's happy, easygoing, everyone is their friend mentality. And Snaps sweet, great in the house, put herself to bed in the evenings personality. She is affectionate and loves attention, like her mother, but can be just as content laying on the floor chewing on a bone, like her father. Putting all of these traits together make her a wonderful part of the family.
Add to her great temperament and disposition, her incredible natural ability in the field and her determination; she really is an all in one dog! She has been pointing birds, swimming for retrieves, backing naturally, and helping guide bird hunts since she was a little puppy!
We have been very happy with this sweet girl and can't wait to see where her incredible natural ability takes her!
BLACKRIDGE KICKIN UP DUST MH - "GRIT"
Born - March 11, 2015

Height - 24.5 in.

Weight - 52 lbs.

Coat - Dense Soft

PennHIPP - LH .33/RH .33
NAVHDA Test Results

NA Prz I, 110 pts

AKC Test Results

MH
Get To Know Grit
We absolutely love Grit! She has been a great addition to our family, guiding string and breeding program! Since she was a little puppy she has retrieved everything to hand both on land and in the water, she pointed her first birds with ease and backed other dogs naturally, as well as she has such a sweet (almost needy for attention) personality.
Grit has been guiding hunts since she was 6 months old. And even though she was just a puppy, she didn't hunt like a puppy! She put some of the older, more seasoned dogs we hunted with that year to shame, finding and pointing tons of roosters and making some impressive retrieves!
Some dogs have natural ability and some dogs have trainability. Not all dogs have both. Some are very natural, but when it comes to advanced level training and testing they aren't very trainable, and some dogs are very trainable, but aren't very natural pointing dogs or retrieving dogs and you have to train them how to do both! But not Grit! She not only had tons of natural ability but also her trainability and her intelligence is incredible. She makes anyone training and hunting with her look good!
As Grit's hunting and testing career have progressed she has continued to impress. She steadied up for her Master Hunter testing and titling with ease and went through her trained retrieve in less than a week! She throws her amazing natural ability and unbelievable trainability into her puppies. They have been so fun to work with in the field and the water and they all retrieve so naturally it makes training them incredibly enjoyable. We especially can't wait to see how one of her puppies, Muddy, continues to mature and develop!
FEATHER HILLS GO GO GIDGET MH - "GIDGET"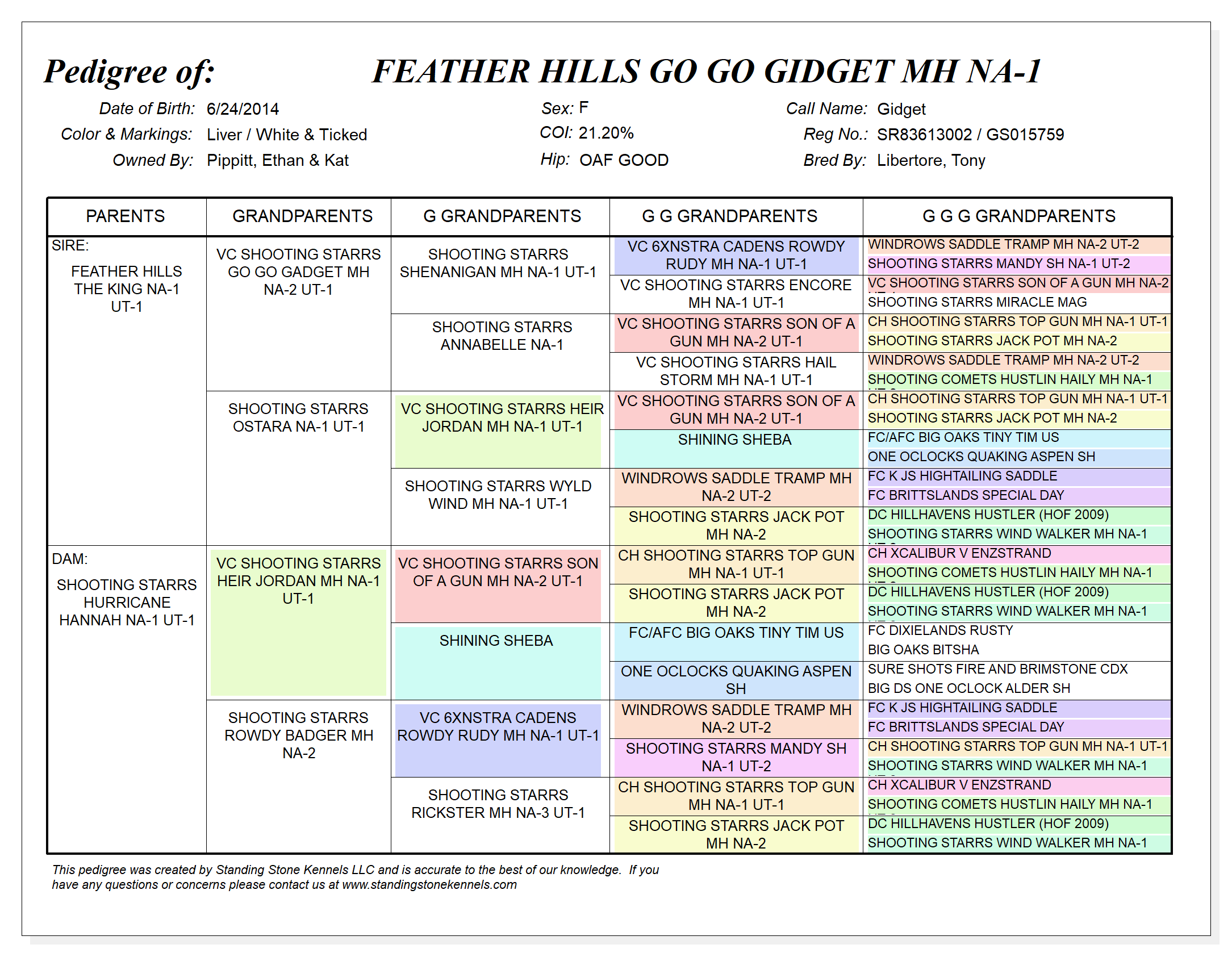 Born - June 24, 2014

Height - 22.5 in.

Weight - 47 lbs.

Coat -

OFA Hips - Good
NAVHDA Test Results

NA Prize I, 106 pts

AKC Test Results

MH
Get To Know Gidget
This little ball of fire is one sweet girl! She is all GO GO GO as her registered name implies, but she is super cooperative and sweet in the house as well! She zips around the field covering ground quickly with a very flashy hunting style. In the house she has to follow you around wherever you go and if you sit down for even a second she is either right in front of you waiting for some pets or she has jumped up on the couch beside you or even right into your lap ready for some love and affection!
In the field Gidget is super steady and stylish on point and backs naturally! She loves the water and some days we have a hard time keeping her out of the pond even in the winter! Gidget loves to retrieve and somehow manages to bring back every bumper with a big grin on her face!
Gidgie's puppies all have her spunky personality and field hunting style as well as her incredible natural retrieving drive. We can't wait to continue her training and see where this fun loving, get up and go little girl will take us!
Standing Stones Down And Dirty MH - "Muddy"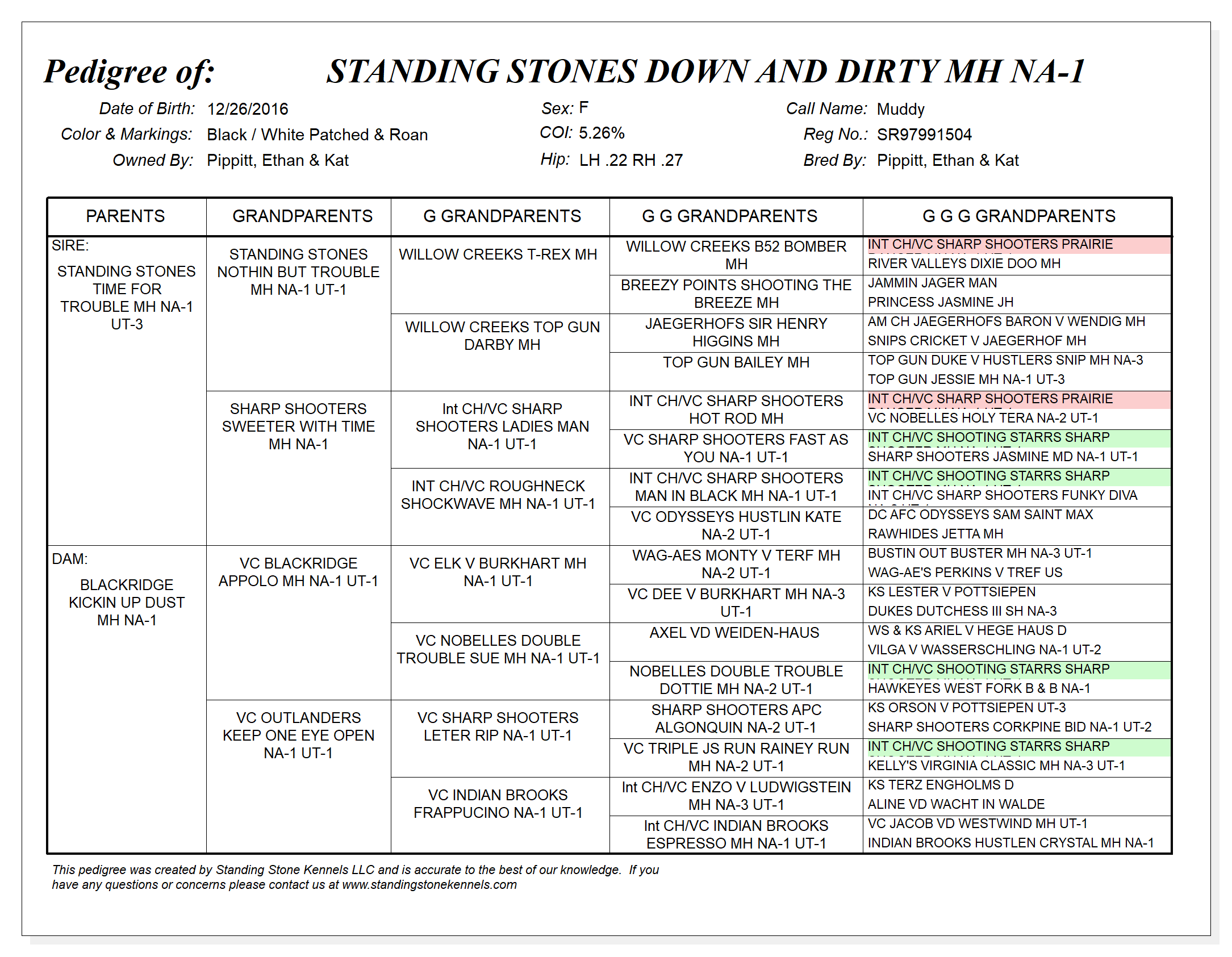 Born - December 26, 2016

Height - 24.5"

Weight - 56 lbs

Coat - Dense Medium Harsh

PennHip - LH .22/RH .27
NAVHDA Test Results

NA Prize I, 112pts

AKC Test Results

MH
Get To Know Muddy
Impressive.
Muddy has been such an impressive dog ever since we picked her out of Grit's first litter! She has always been so sweet and well behaved in the house! Even as a little puppy we were impressed with her livability! She wouldn't make a peep in her crate and never had any accidents, even when we would hit snooze on our alarm clocks, she wouldn't make us get up!
She has continued to impress us with her incredible natural retrieving and pointing abilities! A lot of dogs that have as much prey drive as she does to make retrieves, lack pointing and backing instinct. This was definitely NOT the case with this girl, she has done it all right from the beginning! She also has so much personality that taking her hunting you can't help but get a big smile on your face as she tears out into the field with a bark of joy!
She was also incredibly easy to train, which made preparing her for her AKC Master Hunter Tests so easy! It's always impressive to work with a dog that has so much natural ability and trainability, as well as mental fortitude to handle advanced levels of training and testing at an early age. All of the things that impressed us about this special girl, culminated with her finishing her Master Hunter title at the early age of 18 months!
With as impressive as Muddy has been, we can't wait to see what her puppies will do!
Standing Stones I Do What I Want - "Rogue"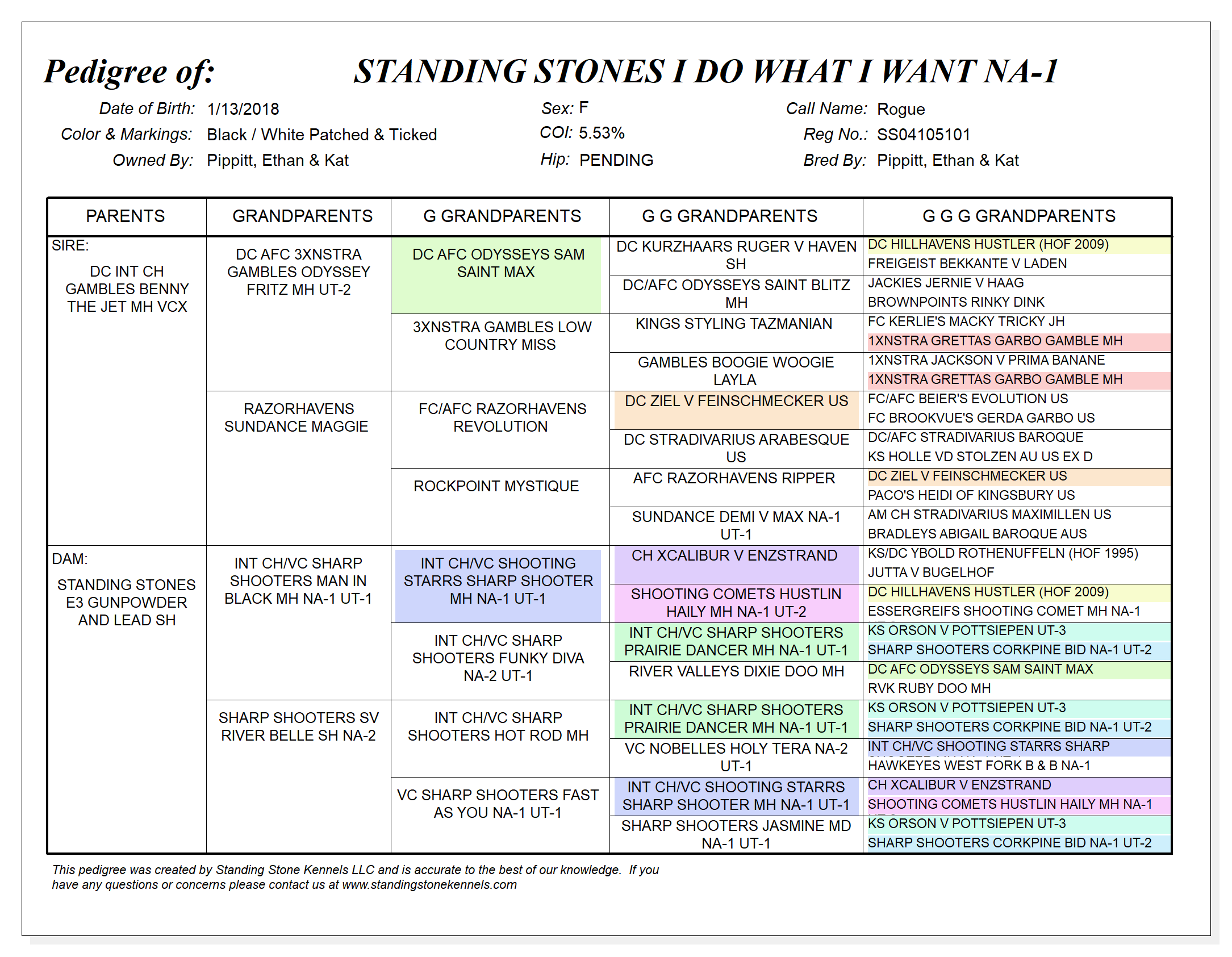 Born - January 13, 2018

Height - 22.5"

Weight - 44 lbs

Coat - Medium Dense Medium Harsh

PennHip - Pending
NAVDHA Test Results

NA Prize I, 110pts

AKC Test Results
Get To Know ROGUE
This little girl loves to work! She is always so focused and ready to train! Even as a small puppy, during her live training videos, she gave us so much focus and picked up on everything we were teaching her so quickly. It probably looked like it wasn't the first time we had worked with her on each different behavior. But it WAS! She just made us look that good ;) or that what we were teaching her was just too easy!
Rogue's incredible ease of training and willingness to work for us has made her one heck of a hunting dog! She is a natural retriever that loves to play fetch, but is also super steady and stylish in the field. Her willingness to work for us makes her so cooperative in the field. We are definitely a team out there hunting; working together for a common goal... BIRDS!
Though she may be small, she definitely makes up for her size with heart! She will hunt all day for you and then ask for more! This determination and her love to work makes her an asset on our guiding string as well as a force in the water! Rogue has a perfect balance of water love and field performance. As she continues her training and hunting career she is going to make an amazingly versatile hunting dog!