STANDING STONE KENNELS STUDS
At Standing Stone Kennels we strive for excellence in all that we do, especially our breeding program. That's why we train, test and title all of the dogs in our breeding program. Before our dogs will stand at stud they will have been PennHip tested as well as titled in NAVHDA or AKC.
STANDING STONES NOTHING BUT TROUBLE MH UT-1 - "NIX"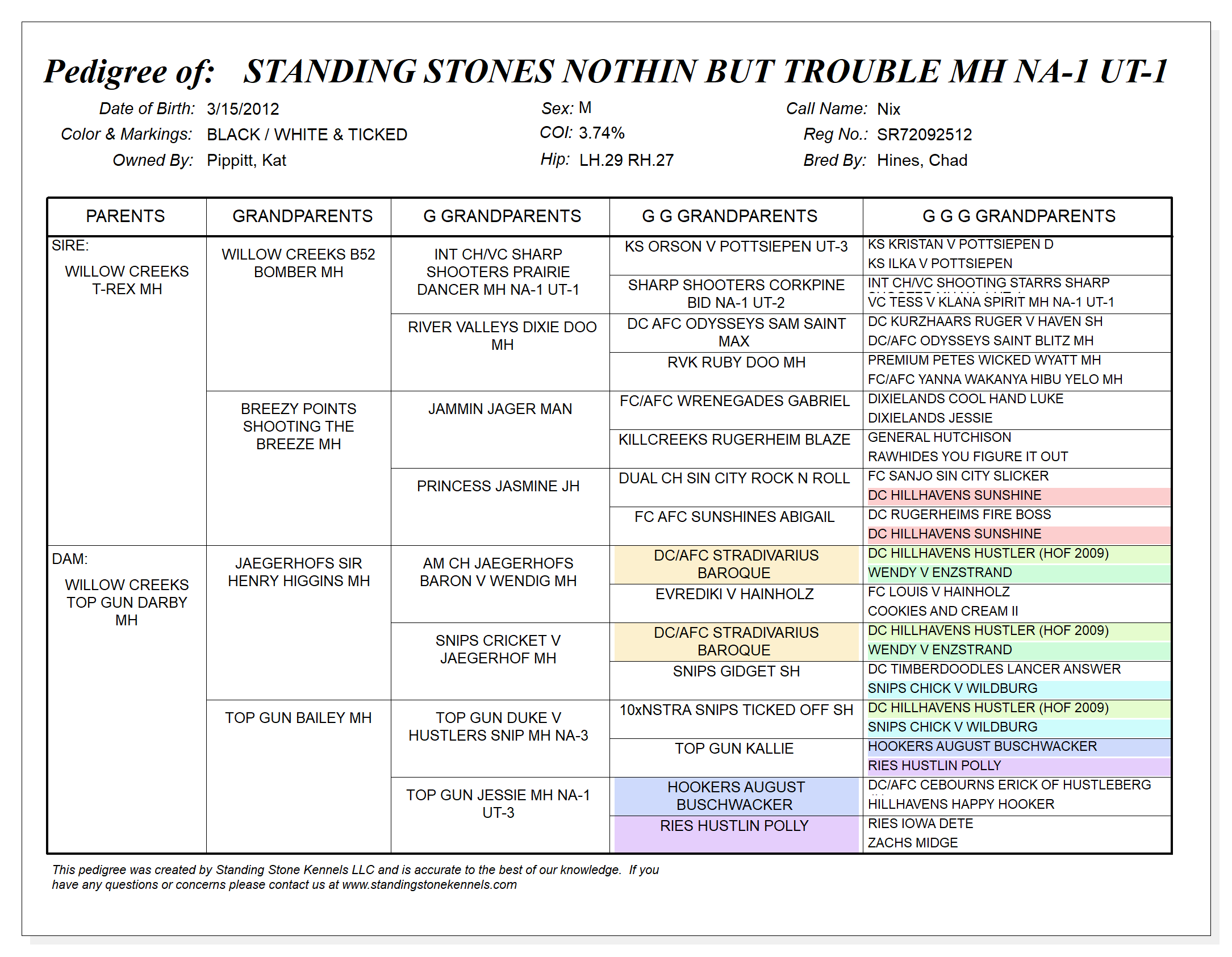 Born - March 15, 2012

Height - 24.5 in.

Weight - 65 lbs.

Coat - Medium Dense Medium Harsh

PennHIPP - LH .29/RH .27
NAVHDA Test Results

UT Prize I, 195pts.

NA Prize I, 112pts.

AKC Test Results

MH
Get To Know Nix
From day one Nix has been a go-getter. He has always been such a confident dog with a "look at me" attitude. He likes to prance around with his tail in the air and show off to anyone who might be watching him. Nix passes his bubbly, self-assured personality onto his puppies.
Nix continued his impressive start by running his NAVHDA NA test at 5 months old and receiving a Prize I perfect score. Even as a puppy he had the retrieving drive and water love that make him a great versatile dog. He also tracks very naturally which he throws into his puppies.
Nix loves to work, whether we are training, sitting in a blind, or hunting a field. He is constantly ready for the next new challenge. We finished his trained retrieve with ease at 6 months old in preparation for his utility training.
He has incredible prey drive and is an excellent retriever, whether we are on land or at the pond. His incredible drive and get up and go personality combined with his natural retrieving drive make him a great late season duck dog. He has no problem sitting in the blind with icicles on his whiskers waiting for the next retrieve. If a duck goes down, whether its dead or crippled Nix will go out, find it, and retrieve it to hand.
Nix has unbelievable stamina and likes to range between 70 and 100 yards. He doesn't like to quit, even if its 6 degrees below and we are hunting late season in South Dakota. We will have to take a break to warm up long before Nix is ready to quit.
Even though Nix is a fast, hard charging dog that likes to range he doesn't run over birds. He has an exceptional nose and will slam his points running full tilt through the field. His nose "knows". Sometimes we stomp around in front of him looking for the bird and can't find it, but we've learned if Nix says its there, its there. We may have to relocate him on a running bird but with his natural tracking ability he beelines for the running bird and pins it down. He always comes up with his bird!
Nix's fun loving, vivacious personality always puts a smile on our face. He is definitely a popular dog at all of the outdoor expos, shows and hunting competitions we go to; everyone wants to stop by and say "hi" and love on him.
Nix's impressive work ethic and eagerness to please make him an enjoyable dog to train and we look forward to finishing his blood tracking training this next year.
STANDING STONES TIME FOR TROUBLE MH UT-3 - "VEX"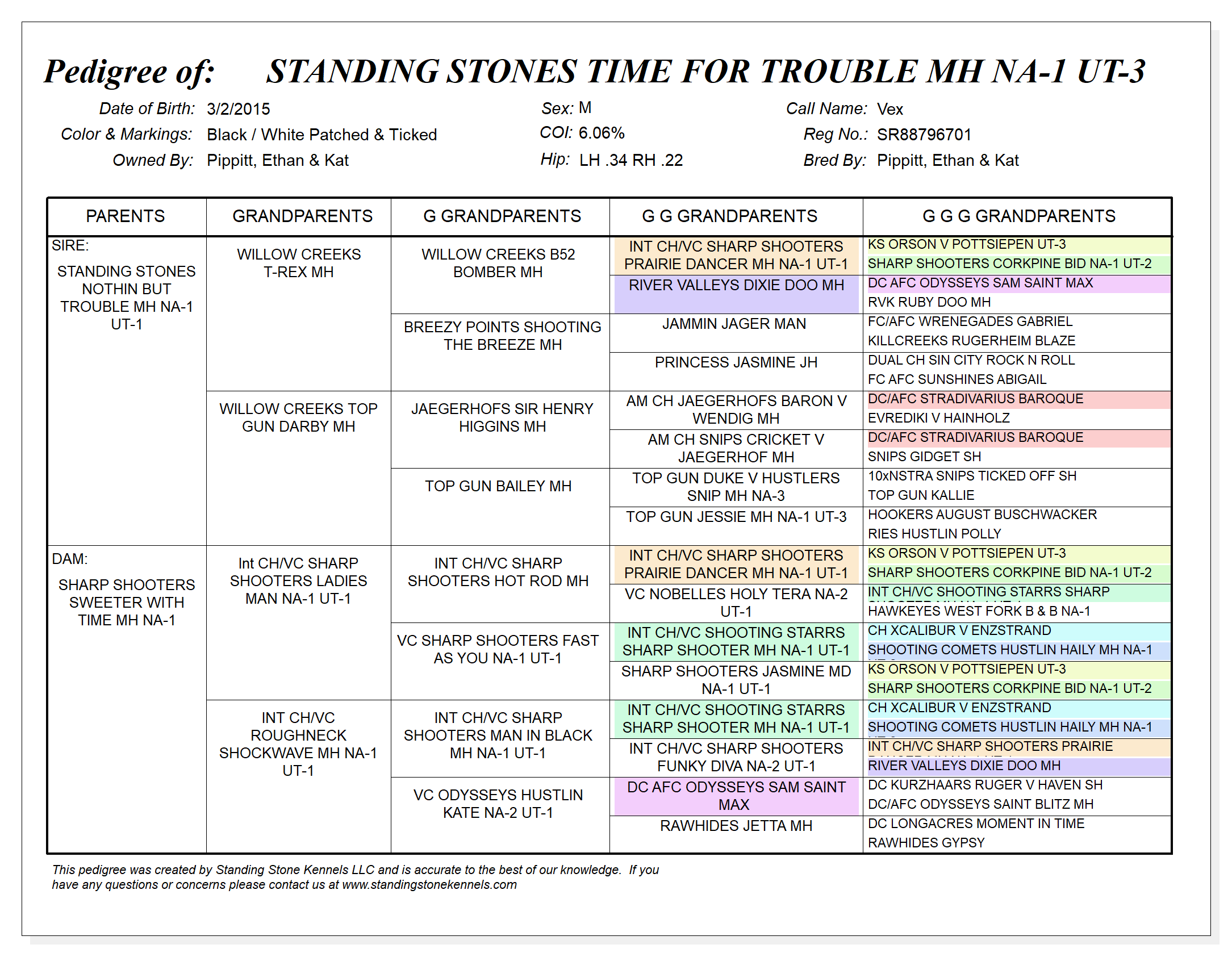 Born - March 2, 2015

Height - 23.5 in.

Weight - 60lbs.

Coat - Medium Dense Medium Harsh

PennHIPP - LH .34/RH .22
NAVHDA Test Results

UT Prize III, 188pts.

NA Prize I, 112pts.

AKC Test Results

MH
Get To Know Vex
"Light Switch"
We have had dogs in the past we thought we could describe this way, but after having Vex none of them compare. He moves through the field with a fast and flashy pace but is a breeze to handle. He has the independence to push out and make a cast where no other dog has covered ground, but also has the cooperation to pin down and hold a covey of quail until you get there to work them. He checks back in while hunting and doesn't run off on his own and get lost! Then after the hunt he comes back in the house to settle down and lie on his dog bed or cuddle on the couch.
His "switch" doesn't only refer to his on in the field off in the house disposition, it transfers right into his versatility as well. He has class and ease of handle in the field that combines with power in the water and water-retrieving drive that could put your buddy's lab to shame! His ease of handling in the field carries over to the blind as he sits steady, patiently waiting with no obnoxious whimpering or indecent whining. He has always marked dead birds well and has a great nose for tracking cripples!
Since he was an 8-week-old little pup he has been obsessed ducks. He loved to chase them up and down the duck pen barking! This was very cute, but did worry us that he may have a little too much prey drive, and it may affect his field work down the road... but once he hit the field he pointed the first bird we ever put him on! He scent pointed it like a pro and held until it flushed.
Most people that have had bird dogs or hunted with bird dogs have experienced that one dog that just had a knack for finding wild birds. Up until Vex, our go to dog had always been his sire, Nix. But during Vex's first full season as a mature dog we got the opportunity to hunt him with his daddy. It was then that he truly started to shine showing his dad up quite often toward the end of the season. Watching him is a true pleasure! Sometimes he would make a push that really seemed unlikely to produce birds and then his beeper would sound off signaling his success. If we are hunting and guiding and need to find birds, we can always rely on this boy to come through!
As a full time training operation we work with a lot of great dogs in all breeds. This gives us the perfect opportunity to see what a natural, willing to please, and easy to train dog is like and Vex is off the charts. He picks up on any new training so fast it as if he is reading the book ahead of class so that he knows the answer the first day we start. He is mentally tough and can handle new and different situations with ease.
We have absolutely loved living with, hunting behind and training Vex. He loves tearing up the dessert for quail and searching the north grouse woods as well as hunting everything in between. Then he comes in the house and finishes the evening curled into the tightest little ball at the foot of the bed sleeping there until you force him to get up in the morning.
In the litters he has sired we are seeing excellent family oriented versatile companions that have a ton of their father in them! He is everything we could hope for from a Standing Stone GSP.
STANDING STONES GUN FOR HIRE MH UT-2 - "SHOOTER"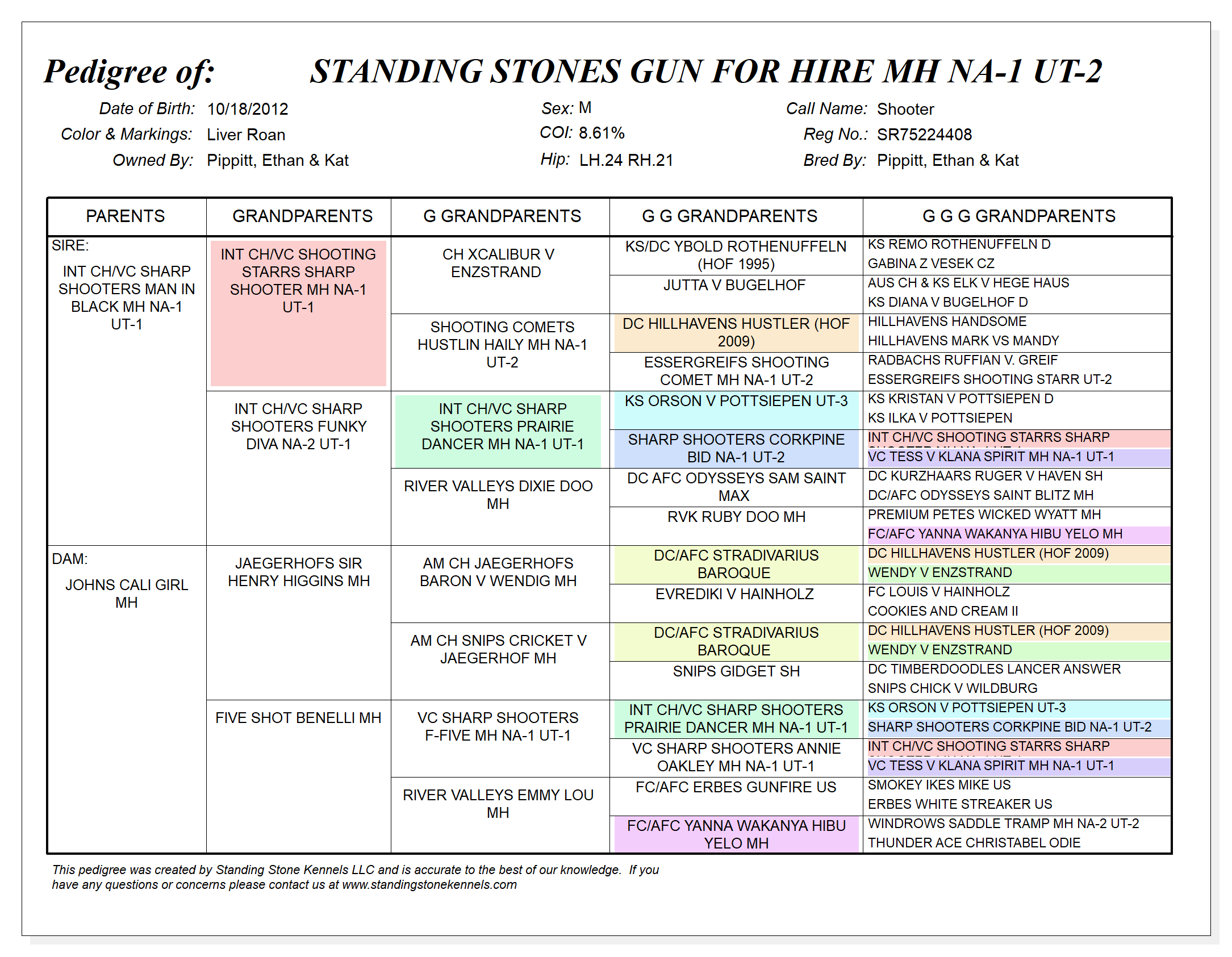 Born - October 18, 2012

Height - 23.5 in.

Weight - 61 lbs.

Coat - Medium Dense Medium Harsh

PennHIPP - LH .24/RH .21
NAVHDA Test Results

UT Prize II, 193pts.

NA Prize I, 112pts.

AKC Test Results

MH
Get To Know Shooter
No dog is perfect… but Shooter comes darn close! He is exceptionally cooperative and intelligent. He is easy to train and handle. In the house he is a dream. He is content to just lay on the rug at your feet, never demanding attention, but enjoying getting loved on and cuddling on the couch when we invite him up. He can be serious and intense in the field and blind, but still has a playful puppy attitude in the back yard!
Shooter's cooperation and intelligence make him a quick study that is eager to please. It seems like he learns new things in only a matter of a couple training sessions. From his obedience training, to his trained retrieve, to his duck hunting preparation, he definitely picks up on things quickly! Shooter went from heeling on lead to collar conditioned to heel in 1 training session. He went through our trained retrieve process in record time. In only 4 days he was collar conditioned to hold and fetch and was starting lining drills. After only 1 steadiness training session he was ready for his first duck hunt. We went to Arkansas and he sat quite and steady in the blind, actively watching ducks and geese come in the whole time.
In the field, Shooter is tireless. He hunts between 60 and 90 yards and covers ground quickly. Even though he covers a lot of ground, he is easy to handle and a joy to hunt behind. He is a great dog to guide with, he backs naturally, retrieves to hand and you can believe him when he says he found a bird. He hits his points with incredible intensity and paired with his good looks Shooter makes a very impressive and striking dog in the field.
Shooter's AKC testing record speaks for itself on just how trainable, cooperative and steady he is. Not many dogs out there can pass 6 for 6 Master Hunter braces, but Shooter made becoming a Master Hunter look easy!
All of Shooter's characteristics are exactly what we are looking for in our dogs. He passes his incredibly sweet, easy going, quiet disposition onto his puppies and his natural retrieving drive shines through as well. We know Shooter is something special and can't wait to see him reach his full potential!